Main Street Cemetery Stewardship
Main Street Cemetery Stewardship:
The Society partners with the Village of Downers Grove to maintain the Main Street Cemetery, its monuments, and the documentation about the those who are buried there.
Each year, the Society coordinates the installation of a number of new headstones as we find new information about who is buried at this site. Some plaques are added at grave sites where the wording on the graves is slowly becoming illegible.
We created the online Cemetery Tour in 2019 which provides photographic and audio insights into those interred at the Main Street Cemetery.
Research is constant in an attempt to glean new information about those early settlers buried here. In the summer of 2021, The Society contracted for a Ground Penetrating Radar (GPR) survey. Some undocumented grave sites were found and research continues to find more information about these burials.
Take a Tour of the
Main Street Cemetery
View the cemetery as an interactive map or click to search those resting at the cemetery via an alphabetical list. Individual pages feature headstone photos, portraits and their personal biographies. Several have audio files where you can listen to the stories about the lives of these early Downers Grove settlers. (Look for audio icons on the map)
In 1856, Samuel Curtiss donated part of his sheep pasture for use as a cemetery. He was later paid $15 for the land, money from individuals who formed a cemetery association in 1864. Nearly 100 members of Downers Grove's early families, including Isrel Blackburn, a freedman, and members of the Blanchard, Curtiss and Wells families are buried here. The cemetery was used until 1938 when Emma Foster Miller was the last to be interred. It is one of the few American cemeteries located in a main business district.
Where is Pierce Downer buried?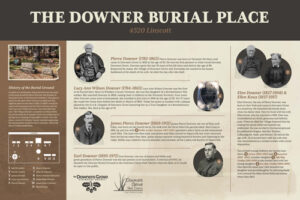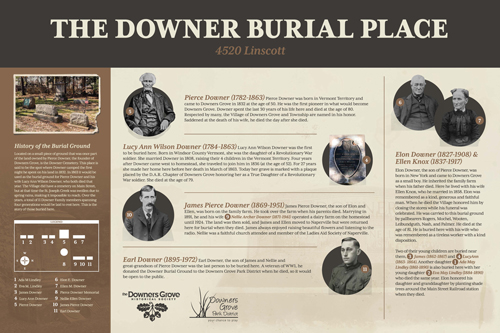 If you have ever wondered where Pierce Downer, the founder of Downers Grove, is buried you would have to visit The Downer Burial Place located at 4520 Linscott Avenue. Open to the public this small piece of ground was once part of the original land owned by Pierce Downer. This place is said to be the spot Downer camped the first night he spent on his land in 1832. In 1863 it would now be used as the burial ground for Pierce Downer and his wife Lucy Ann Wilson Downer who both died that year. The Village did have a cemetery on Main Street but the St. Joseph Creek that was swollen due to Spring rains made it impossible to reach. Over the years 8 more Downer Family members would be laid to rest here. These Downer Family members now complete the cemetery and span four generations.
Video Courtesy of Village of Downers Grove