If you lived in Downers Grove before 1960, you might remember what the northeast corner of Maple Avenue and Main Street looked like back them. Today, the corner is the site of the Main and Maple Apartments, but from 1909 to 1960, the First Evangelical Church could be found here. It was later known as the First Evangelical United Brethren Church.
Formally dedicated on October 23, 1910 the First Evangelical Church was a part of Downers Grove for many years before that. In 1910 with a membership of about 70 members this congregation raised $10,000 to build a new  church building on this corner. The building had a seating capacity of 225 in the auditorium that was 42 feet by 42 feet, rooms for Sunday School, a library and pastor's study. It was constructed by Mr. Henry Wolfersheim, mason and Peter Johnson, carpenter. A beautiful corner stone was donated by Arthur Beidelman of Naperville.
In 1935 the silver anniversary of the church was held with Rev. E.M. Diener  who attended this church as a young man presiding. The church remained on this corner until 1960 when it was torn down and the congregation moved to a new  building on Fairview and 59th Street. The church is is now Faith United Methodist Church.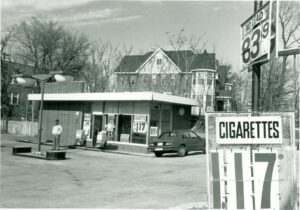 While this corner was later used for a gas station, park, and as a parking lot, the long-standing church that was here should remain as part of our Main Street memories.