In August of 1951, a brand new ultra-modern
Jewel Food Store
opened at this location with over 6500 people attending a grand opening celebration held in the parking lot behind the building.  In the early 1960's, Jewel moved to the corner of 63
rd
and Main Street.  George and Kathleen Hotchkiss then opened
Grove Premium Sales
, a variety store offering food, toys, scout uniforms, and everything else. With the Hotchkiss' retirement in 2000, local businessman Phil Cullen purchased the building and in 2004
Ballydoyle Irish Pub and Restaurant
opened.
Building History
Early houses (1892-1926)
As early as 1892, two house stood near where Ballydoyle is currently located. Both houses were set back from the road as most houses were at the time. This was the edge of the downtown business district. In the 1920s, a retail store was built-in front of the two houses and connected to the house on the right. The families living here included those of Henry P. Coster. Fred Lempke, Carl E Anderson, Herbert J Hawkins, Fred Baker, Charles Radowiz. Herbert Hawkins was to run other businesses including a garage across the street, south of the Main Street Cemetery. Fred Baker was to open a jewelry store on this location.
Somervilles Bootery and Fred Baker Jewelry (1926-1932)
The new store that was built in front of the two houses first housed a shoe store and a baker. On the north side of the building was Somervilles Bootery. It closed around 1931, possibly because of the Great Depression. On the southern side at 5159 Main Street was Fred Baker's Jewelry Store in was still in business as of 1932.  Fred Baker and his family live next door to the store at 5161 Main Street. Little more is known about this location until 1951.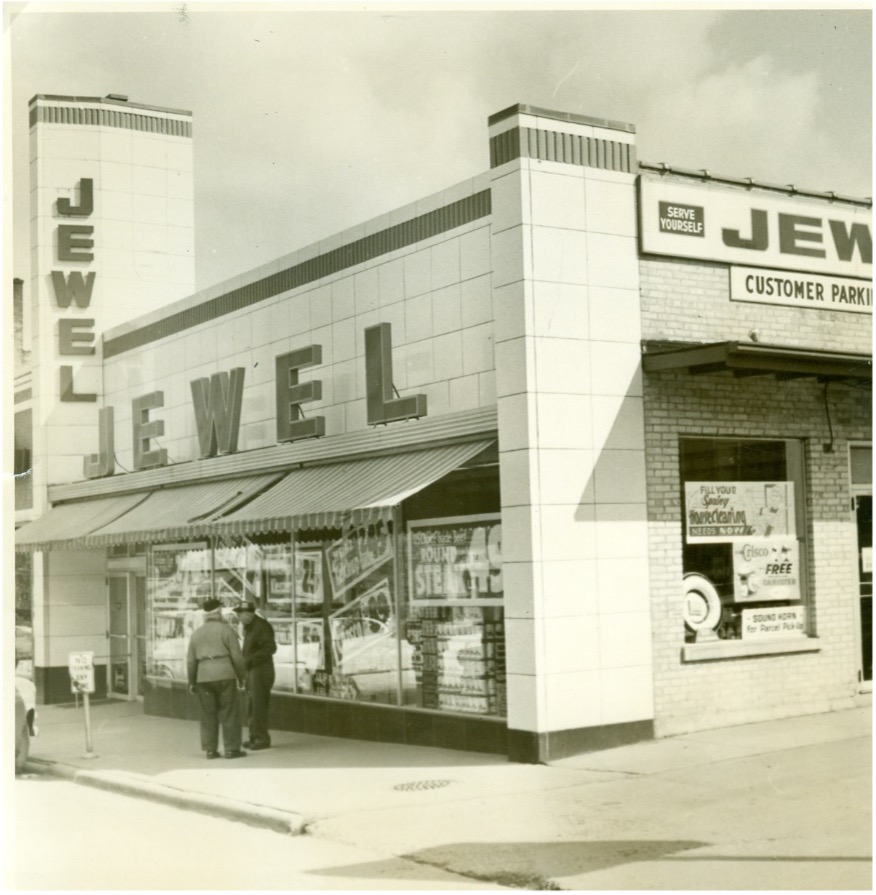 Jewel Foods (1951-after 1960)
The Jewel Food built a brand new ultra-modern grocery store at 5157 Main Street in 1951. The grand opening was attended by 6,500 people and held in the parking lot next to the store. The featured entertainment were square dancers.  A seven-foot Oscar Meyer balloon broke away from its mooring during the festivities. A fifty-dollar reward was offered for its return.
Grove Premium (about 1967-2000)
George and Kathleen Hotchkiss were the founders of Grove Premium. The original store was just south of this location at 5223 Main Street. The store moved around 1967 to this location. The store closed in 2000 when the Hotchkiss's retired. The store served the community as a variety store that offered food, toys, scout uniforms, and so much more.
Parking Lot planning (2000-2004)
There was discussion that the village would take over the property using eminent domain for use as a parking lot. This did not come about, though the Parking Garage was built on land that was formerly part of the Grove Premium parking lot in the back of the building.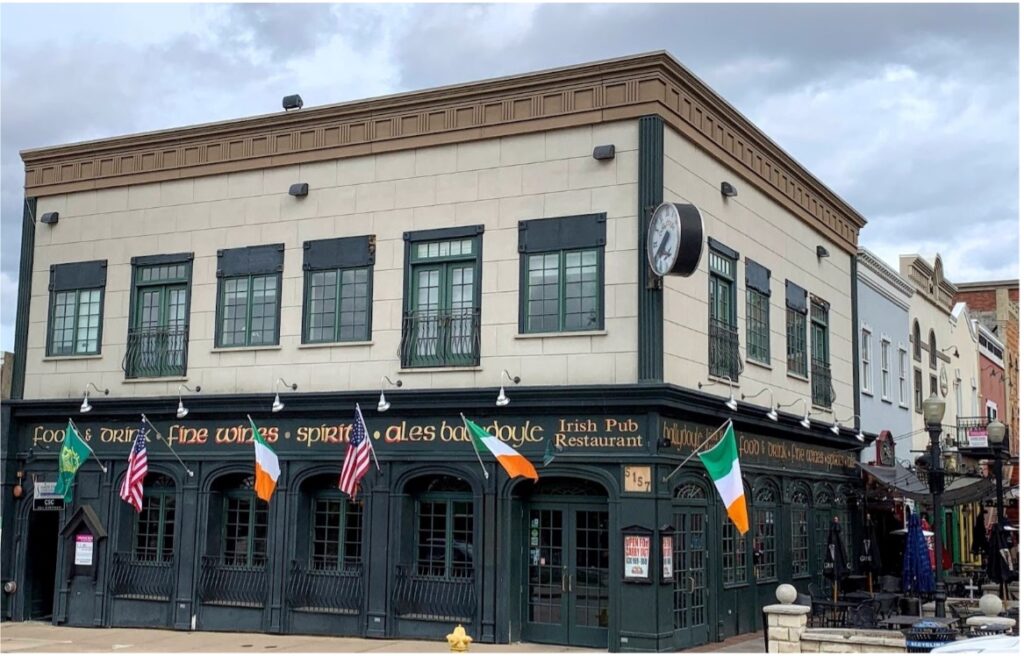 Ballydoyle Irish Pub and Restaurant (2004-present)
Ballydoyle was opened by Downers Grove businessman Phil Cullen in 2004. Ballydoyle describes themselves as "the perfect place to grab a pint. We embody the energy of a music venue with the laid-back atmosphere & cozy interior of our favorite pubs from the Motherland. Both a destination & neighborhood favorite, Ballydoyle Irish Pub offers something for everyone."