The Historical Society, in partnership with the Village of Downers Grove, has added three new gravestones to the Main Street Cemetery.

The first stone is for two brothers Arthur Milo Root and Charles Frank Root. Even though we don't know their dates of death, we do know they are buried there because their unmarked graves were uncovered during construction on Main Street in 2000. This discovery led to an extensive study of the remains found. Cemetery records determined that the remains were those of the sons of Elijah and Ann Jeanette Kenyon Root. In the summer of 2000, with an appropriate ceremony, the village reburied the Root brothers in the cemetery. However, their graves were left unmarked and not found again until a ground penetrating radar study of the cemetery was done in 2021 which showed the location of the Root brothers' graves.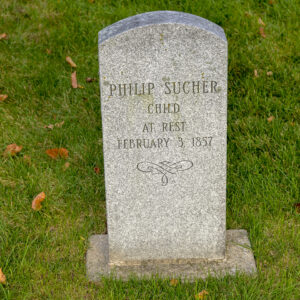 The second stone has been placed on the grave of Philippe Sucher. Philippe's grave had been marked incorrectly for many years as it was thought that he was a child when he died. Research by the Sucher family has shown that Philippe Sucher was born in 1816 and died 1857. A new, accurate marker has now been placed on his grave; not far from his parents, Johan George and Elisabethe Gros Sucher.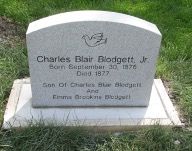 The third new stone is there to mark the grave of Charles Blair Blodgett, Jr. His grave had been unmarked for many years; but now is honored with a monument. Charles' grave is near his grandparents, Israel and Avis Blodgett, early settlers of DuPage County and Downers Grove. Charles, Jr. was the son of Charles and Emma Blodgett and died as a small child in 1877. His parents are buried in Oak Crest Cemetery.